Newfoundland & Labrador – May 12th 2022 – Miawpukek Horizon Maritime Services, in collaboration with OceanGate  Expeditions, are pleased to announce the finalists selected to join our 2022 Artist Residency program during the 2022 Titanic Expedition. The artists will capture their experiences while aboard the expeditionary support vessel, Horizon Arctic, as they join OceanGate Expeditions' 2022 Titanic Expedition.
Nelson White is a Mi'Kmaw painter originally from Flat Bay, NL now residing in St. John's.  Mr. White's work has been exhibited frequently throughout Canada and the U.S. in both group and solo shows. He has been featured on CBC's The National, and his paintings are included in public and private collections across North America, including the provincial art collection of Newfoundland and Labrador, PEI and the Smithsonian's National Museum of the American Indian. He was also the first Indigenous artist-in residence at the Rooms, Newfoundland & Labrador's Provincial Art Gallery, as well as a resident with Fogo Island Arts.
"My work centers on documenting the changing culture landscape of my people; displaying natives in a modern setting, telling stories of who we are now. There is no real history of indigenous portraiture, apart from settler representations of "the noble savages". My attempt is to step in and show people who exist in the 21st century. I want to display natives in a position of beauty and power." – Nelson White
"I'm excited for the science, being at sea, and a learning experience out of the norm," shares Mr. White on his decision to apply for the expedition, "To find inspiration in the Indigenous crew members (not just stereotypes) – I'm excited to show that Indigenous people don't exist as just one thing."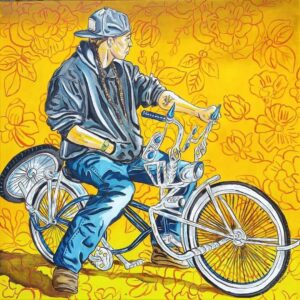 Elwyn Rides – Nelson White
The second finalist is Mi'Kmaw visual artist, Alex Antle originally from Grand Falls-Windsor and currently living in the Bay of Islands.  Ms. Antle is a self-taught beadwork artist who has been practicing since 2017. Her practice began as a way to build a stronger connection to her Mi'kmaq heritage. She started by creating wearable art in the form of jewelry before pivoting in 2019 to create larger applique beadwork pieces and loom pieces for exhibition.  Her largest piece to-date, a 42" x 17" beaded watershed map of the Exploits River is designed as a "touch experience", inviting guests to view the art with their hands.  She's participated in gallery exhibitions across the province, with her first solo exhibition, along with three gallery shows, booked for 2022.  In 2021 she was selected as winner of the Emerging Artist Award from VANL-CARFAC and has been nominated for the Newfoundland and Labrador Arts Council Emerging Artist Award (winner to be announced in June 2022).
"My work explores the Mi'Kmaq relation to water, flora, fauna, and culture, along with comparison of Mi'Kmaq traditions and modern living. I am passionate about bringing art outside of the gallery space and making it more open for everyone to participate in and appreciate. This is one of the main reasons I was drawn to this opportunity.  The combination of art and STEM opens the door for a wider group of people to appreciate both." – Alex Antle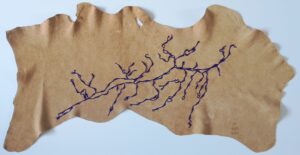 Sple'tk, a watershed map of the Exploits River – Alex Antle
A call for proposals was released earlier this year to attract applications from visual artists, videographers, graphic designers, or fine crafts-persons, with a preference given to members of the Miawpukek First Nation (on or off reserve), members of the larger Mi'kmaq community, and other Indigenous candidates.  This one-of-a-kind opportunity provides an avenue for Indigenous artists to creatively portray experiences and discoveries onboard while connecting with Mission Specialists and crew members, and ultimately weaving a connection between Indigenous art and culture and the marine industry.
"This will be a very exciting and wonderful opportunity for both Miawpukek Horizon Maritime Services and for Indigenous artists.  Such a combination of creativity will certainly be a successful for everyone involved. It will surely be the experience of a lifetime." – Honourable Lisa Dempster, Minister for Labour Affairs and Minister for Indigenous Affairs and Reconciliation NL
"OceanGate Expeditions is honoured to collaborate with the Miawpukek First Nation community and Miawpukek Horizon Maritime Services. We look forward to having Nelson and Alex on board the Horizon Arctic with us during the 2022 Titanic Expedition. We are excited to learn about their art and how it reflects their experiences," said Stockton Rush, President, OceanGate Expeditions.
"This Artist Residency  represents a unique and rewarding opportunity to advance Indigenous arts collaboration in the marine industry. Our hope with this experience is to increase engagement while sharing the unique and valuable perspectives of Indigenous participation in the Blue Economy," Jasmine Saunders – Business Manager, Miawpukek Horizon Maritime Services
—
ASSOCIATED LINKS
OceanGate Expeditions 2022 Titanic Expedition Canadian Partners: 
Horizon Maritime, St. John's, Newfoundland and Labrador
SubC Imaging, Clarenville, Newfoundland and Labrador
eDNAtec, St. John's, Newfoundland and Labrador
Make-A-Wish Canada, Toronto, Ontario
Exploring by the Seat of your Pants, Elora, Ontario
ABOUT MIAWPUKEK HORIZON
Miawpukek Horizon Maritime Services Ltd. (MHMS) is an Indigenous Business operating in Atlantic Canada that was created to service emerging opportunities in the local marine industry within the Atlantic Region.
MHMS is a company that has evolved from a relationship that started with the recruitment and development of First Nations seafarers from the Miawpukek First Nation, as Horizon Maritime sought to expand its seafarer network and further diversify its workforce. Miawpukek seafarers have become valued members of the Horizon Maritime team and strong relationships between Miawpukek Tribal Council and Horizon Maritime principals have developed as a result. MHMS provides valuable and in demand marine services by incorporating Etuaptmumk (two eyed seeing of traditional Indigenous knowledge and Western knowledge) into our daily operations and long term goals. As an Indigenous organization, Miawpukek Horizon provides maritime solutions that are innovative, inclusive, and sustainable.
ABOUT OCEANGATE EXPEDITIONS
OceanGate Expeditions, Ltd. is dedicated to direct human exploration of the undersea world. The organization conducts undersea expeditions to explore and chronicle the 95% of the seafloor that man has never visited including iconic shipwrecks, hydrothermal vents, deep-sea canyons, and uncommon biological events. These expeditions, to depths approaching 4,000 meters (13,123 feet), provide rare opportunities for citizen scientists to venture into the deep ocean and expand our understanding of our home, the blue planet. Visit www.oceangateexpeditions.com.
Follow OceanGate Expeditions on:  YouTube | Instagram | Facebook | Twitter | LinkedIn
—
MEDIA CONTACT
Richard MacLellan – Managing Director, Miawpukek Horizon